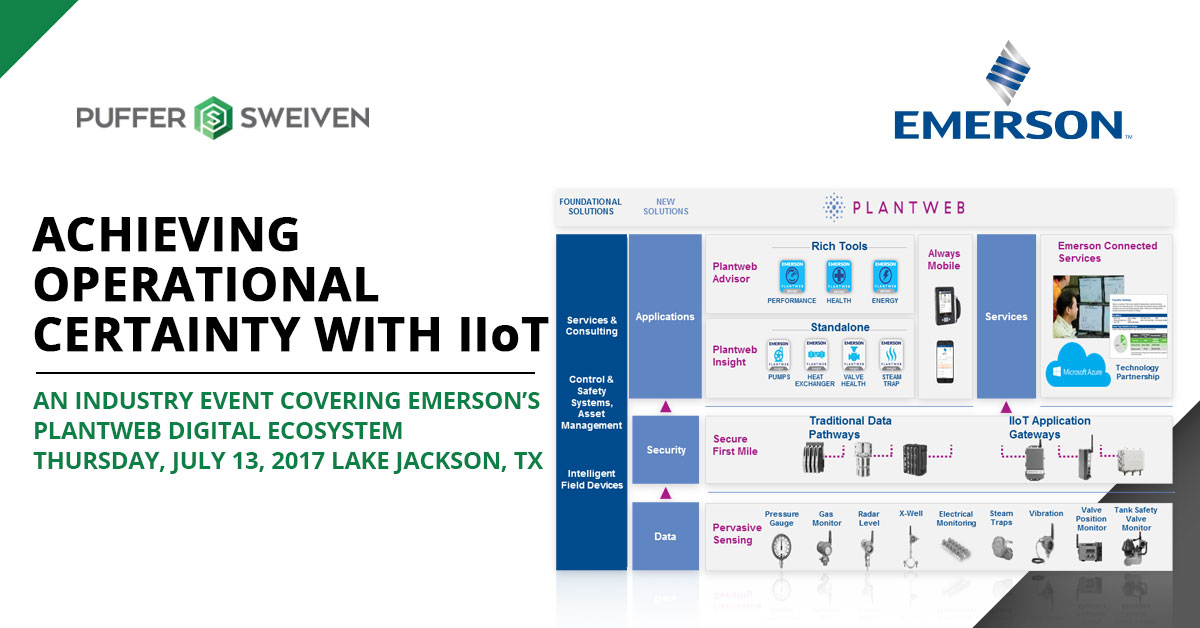 Achieving Operational Certainty: A Practical Approach to the Industrial Internet of Things
A Special Industry Event Hosted by Emerson and Puffer-Sweiven
Date: Thursday, July 13, 2017
Location: Brazosport College, Corporate Learning Center, 500 College Drive, Lake Jackson, TX 77566
Time: 10:00 AM-1:00 PM
Fee: No Charge (Attendees must register to reserve a seat.)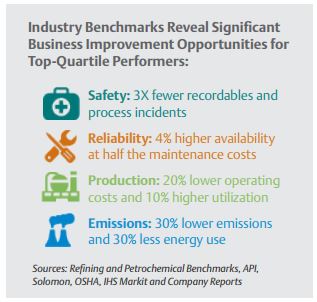 Please join us for this exclusive industry event and take a guided tour of Emerson's Plantweb Digital Ecosystem—a scalable portfolio of standards-based hardware, software, intelligent devices and services. By taking a practical approach to IIoT implementation, you can achieve measurable business performance improvements in the areas of safety, reliability, productivity and energy/ emissions.
AGENDA
10:00-10:30 Keynote Address
10:30-11:30 Technical Sessions
11:30-12:00 Lunch
12:00-1:00 IIoT Tour and Demos
Most organizations have continuous improvement initiatives aimed at achieving operational excellence and driving toward Top Quartile performance. A much talked about approach to help users achieve these goals is the utilization of the Industrial Internet of Things (IIoT).
Technical Sessions will highlight:
Rosemount Wireless instrumentation
WirelessHART gateway infrastructure
Secure data connectivity to control systems (DeltaV, ROC, and more)
Data diode for cloud-based applications
Plantweb Insight – Easy to deploy, online dashboards for equipment monitoring
Plantweb Advisor – Comprehensive Health, Performance and Energy Advisor software
DeltaV Mobile
AMS TREX
AMS Device Manager and ARES
Fisher ValveLink Services
Turnkey Steam Trap Monitoring
Many articles have been written about IIoT – the benefits of improved connectivity and communications, utilization of big data, analytics, and machine learning to support better decision-making. IIoT technologies enable new levels of efficiency, optimization, productivity and profit. However, many organizations are not sure how to prioritize and justify investments, scale up across the enterprise, or find partners who can work with them to leverage existing investments.
The Plantweb digital ecosystem is a portfolio of solutions that harnesses the power of the Industrial Internet of Things (IIoT) to work towards achieving Top Quartile operational performance. It is the result of an evolution of Emerson strategies and technologies, rooted in our broad portfolio of foundational solutions that leverage intelligent field devices and digital asset management strategies to fundamentally improve process control and plant operations.