We keep Puffer-Sweiven employees energized with a personal support system, including:
Comprehensive and competitive benefits packages that include health, dental and vision coverage
Machine Readable File Compliance (https://www.bcbstx.com/asomrf?EIN=260003996)
Employee Stock Ownership Plan that is available to all employees, regardless of title or tenure
Educational assistance through our 100% Tuition Reimbursement Program
401(k) Retirement Savings Plan with a 100% employer match of the first 4% you contribute
Wellness Program
Life insurance and disability
Performance development
Regular and frequent discussion of achievements, work progress and business direction
10 paid holidays per year and a generous Paid Time Off policy
Since its founding in 1945, Puffer-Sweiven has been a 100% employee-owned company. Our Employee Stock Ownership Plan (ESOP) offers ownership to everyone, regardless of position or title.
As a shareholder, you have a stake in our company's future and share in our financial success as you plan for retirement. Best of all, you won't be contributing your own money. The ESOP benefit is funded completely by Puffer-Sweiven through an annual contribution based on a percentage of your eligible earnings each year.
We take pride in the supportive environment we cultivate for our employees through regular social gatherings at work and in the community through shared activities and experiences. Service awards, employee excellence awareness, and a family-oriented culture all contribute to our average employment tenure of eight years that exceeds industry averages. We are proud that many of our employees make their careers here, bringing decades of world-class knowledge to our clients' projects.
As an employee-owned company, we empower our teams to exceed expectations and drive exceptional customer experiences with each project.
Our success is built by our employees and cultivated by the vision of our leadership team. Together, they drive the strategic decisions that support and spur on the industry-leading innovations and improvements that set new quality standards and technological advancements year on year.
A career at Puffer-Sweiven is more than a job; it's a journey filled with learning and development opportunities to help you excel in your field and explore other areas of interest within the company.
Our Learning Management System (LMS) and Emerson's ProcessWorld offers you 24/7 access to hundreds of online courses, including Emerson Products and Systems specific courses, as well as skills training in sales, customer service, and leadership development.
Plus, we offer training opportunities through third party providers to help you expand your industry knowledge, stay current in your field, and continue to learn throughout your career. And, we provide up to 100% tuition reimbursement for successful completion of approved academic and vocational courses that support Puffer-Sweiven's business.
Giving credit where credit is due is an important part of the Puffer-Sweiven experience. While collaboration is a core trait all our employees support, our leaders regularly recognize employees who have gone above and beyond daily expectations. For these, we created two company awards that give our employees and leaders a voice to recognize their teammates for extraordinary efforts.
2019 President's Council Award Winners
We are dedicated to fostering a work environment where employees are respected and valued for their differences.
Puffer-Sweiven is guided by the principles of non-discrimination, respect for human rights, and individual freedoms. We strive to create an atmosphere where employees can perform at their highest potential. Treating each other with dignity and respect is the foundation of good business conduct and fosters a safe and productive workplace that sets us apart from our competition.
Our employees are dedicated to helping others, and created the PS Give Committee to help Puffer-Sweiven make a positive impact on our communities. Employees can serve directly on the committee, coordinating volunteer activities for Puffer family and friends or simply participate in many company-sponsored activities and programs including:
Houston Food Bank
Making Strides Against Breast Cancer Walk
Habitat For Humanity
Junior Achievement
Adopt-A-Beach
Walk to End Alzheimer's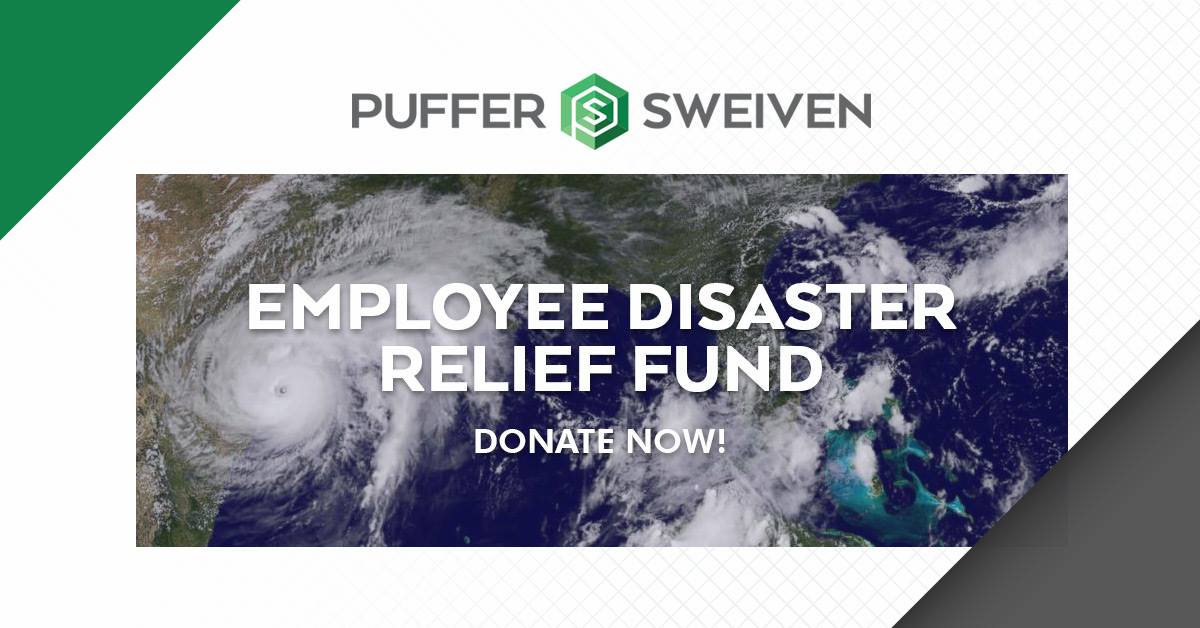 As PS Give committee members, we also organize to help our employees whenever the unexpected happens.
During Hurricane Harvey in 2017, we organized work crews to clean out flooded homes and established the Puffer- Sweiven disaster relief Fund, raising more than $300,000 to address employees' property damage not covered by insurance.
We take an active role protecting our environment and incorporate good sustainability practices through reduction and recycling at all of our locations.
Our PS Go Green Team enables employees at each facility to meet regularly to review sustainability measurements, identify improvement opportunities and communicate new conservation initiatives and ideas to the company.
Each of us is dedicated to collaborating with customers to meet today's automation needs without compromising the ability of future generations to meet the needs of tomorrow.