Our website uses cookies. By continuing to browse our site you are agreeing to our Cookie Policy.

Since 1945, Puffer-Sweiven has excelled at focusing on our customers' needs and delivering reliable solutions that exceed expectations. We are proud of our successful track record, driving engineering and product innovations and standards that support a wide array of industries. Through it all, we remain customer-centric and focused on exceeding your expectations to deliver predictable, successful results.
We recognize that our success comes from the talented thought leaders and go-getters who provide industry-leading technical expertise and exceptional customer experiences to deliver the right solution to exceed expectations -- all while remaining an independent, employee-owned company.
In 2020, we celebrate our 75th anniversary, marking a major milestone as an industry leader and employer. With a reflective look to our past, we acknowledge there are more opportunities to learn, improve and positively impact the industries we serve, and we will continue pushing forward. We are proud to serve customers like you and to develop the next generation of products and services for process controls, automation and safety.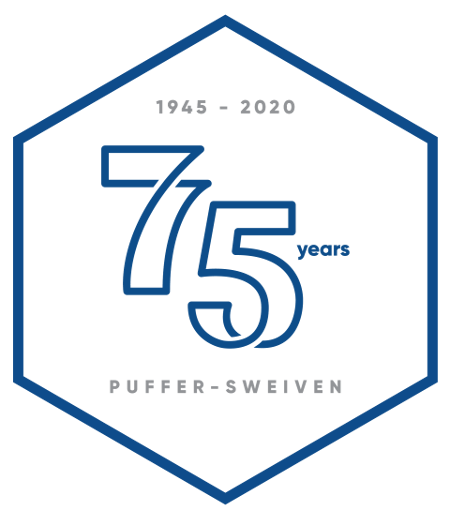 Our North Star remains the success of our customers, and we strive to deliver solutions that make our customers more successful. We aspire to provide an enhanced experience for our customers while exceeding their expectations through increased performance of their projects and their ongoing operations.
Albert Grobmyer
, President and CEO, Puffer-Sweiven
The Road Ahead for Puffer-Sweiven
Looking ahead, Puffer-Sweiven is primed for growth, with plans to expand not only our physical locations, but our products and technological capabilities. These work together toward a common goal to provide a more localized experience for our customers.
Whether we are building new locations, expanding existing ones, adding inventory to local delivery centers or enhancing our field service capabilities, our ultimate priority is to minimize your downtime.
With these and other improvements planned, we will be even more able to scale and rapidly deploy solutions to suit different customers' needs, and reliably deliver the right process control, automation or safety products or services.
As needs change and industries adapt, so does Puffer-Sweiven. We are proud to drive many of today's industry standards. We look forward to another successful 75 years collaborating with customers like you on future iterations of technology and product design that increase efficiencies, enable greater success and ultimately improve the industries we support.
Read more about our history to see how far we have come.