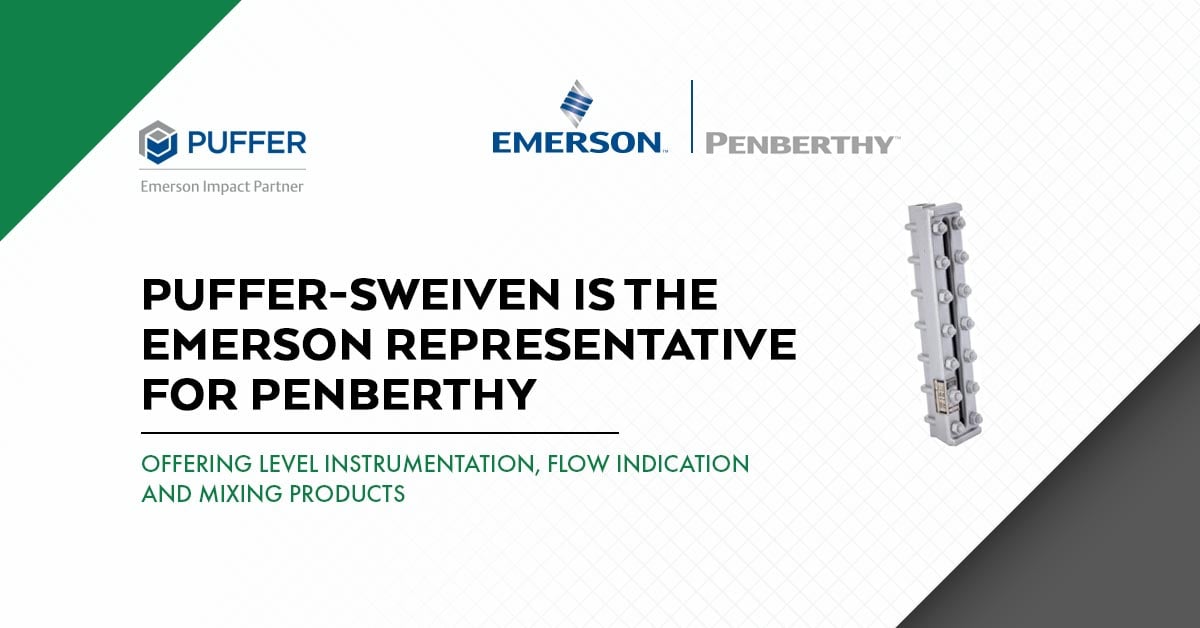 Emerson has named Puffer-Sweiven as the representative in the Texas Gulf Coast for additional products. In addition to the well-known Emerson brands that Puffer-Sweiven currently represents, like Anderson Greenwood, Bettis, Crosby, Fisher, Keystone, KTM, Vanessa and Yarway steam valves, effective December 1, 2018, Puffer- Sweiven will represent and support the Penberthy level instrumentation, flow indication and mixing products and the Yarway boiler trim products.
Until today, across a wide range of industries, customers have been buying valves and valve services from many different providers which adds complexity and cost to their process. Now, industrial process operators, purchasers, and engineers in Puffer-Sweiven's Texas Gulf Coast region can call one number for all valves & valve service needs, which includes control valves, regulators, isolation valves, pressure and safety relief valves, valve actuation, steam traps and level instrumentation and flow indication products.
Albert Grobmyer, Puffer-Sweiven president, understands that building and operating reliable processes takes more than dependable equipment, it takes a team you can rely on.
"At Puffer-Sweiven we believe in delivering trust with every customer interaction. Our customers face real challenges building, operating, and maintaining safe, reliable, and efficient process facilities. They need a qualified team they can depend on through all stages of their operations. We are continuing to evolve our business, emphasizing collaboration with our upstream, midstream and downstream customers to provide them with safer, more reliable, easy-to access products and services."
Puffer-Sweiven's relationship with Emerson as an Impact Partner balances local expertise with global leadership. Emerson is a world class-manufacturer of leading and innovative technical solutions. Puffer-Sweiven offers the local resources with expertise to solve our customers' most difficult applications. Additionally, Puffer-Sweiven has ready access to the fleet of resources from all twenty-one members of the Emerson Impact Partner Network. Across North America with fellow Impact Partners, or around the globe with Emerson, Puffer-Sweiven strives to collaborate with customers to solve their toughest challenges.
About Puffer-Sweiven
Puffer-Sweiven has set the standard as the leading provider of industrial automation, valves, measurement, process control technology and solutions throughout the Central and Gulf Coast regions of Texas. For the last 70 years, Puffer-Sweiven has partnered with End User, OEM and EPC customers to produce safe, consistent and effective solutions. As an Emerson Impact Partner, Puffer-Sweiven is uniquely positioned to specify, repair, replace, upgrade, and integrate Emerson automation solutions. Their unique partnerships with Emerson and other leading automation, safety, and reliability solution providers enable them to connect their customers with world-class technology, superior technical expertise and full lifecycle services. Puffer-Sweiven's project management team and vast inventory can help reduce customer costs, minimize down time and provide rapid response when necessary. Puffer-Sweiven's superior technical expertise has enabled successful collaboration on the largest projects in the oil and gas, LNG, refining, and petrochemical industries. Employee owned, Puffer-Sweiven takes pride in providing exceptional value through collaboration and commitment to the customer's success.
About the Impact Partner Network
Across North America, Emerson strategically partners with local companies to assist with delivery, ensure quality, and maximize lifetime value of assets while in use. These twenty-one strategically selected local representatives, called Impact Partners, offer the tools, services, subject matter experts, local expertise, and technologies within and beyond Emerson's portfolio to serve area needs.
About Emerson
Emerson (NYSE: EMR), headquartered in St. Louis, Missouri (USA), is a global technology and engineering company providing innovative solutions for customers in industrial, commercial, and residential markets. Our Emerson Automation Solutions business helps process, hybrid, and discrete manufacturers maximize production, protect personnel and the environment while optimizing their energy and operating costs. Our Emerson Commercial and Residential Solutions business helps ensure human comfort and health, protect food quality and safety, advance energy efficiency, and create sustainable infrastructure. For more information visit Emerson.com.