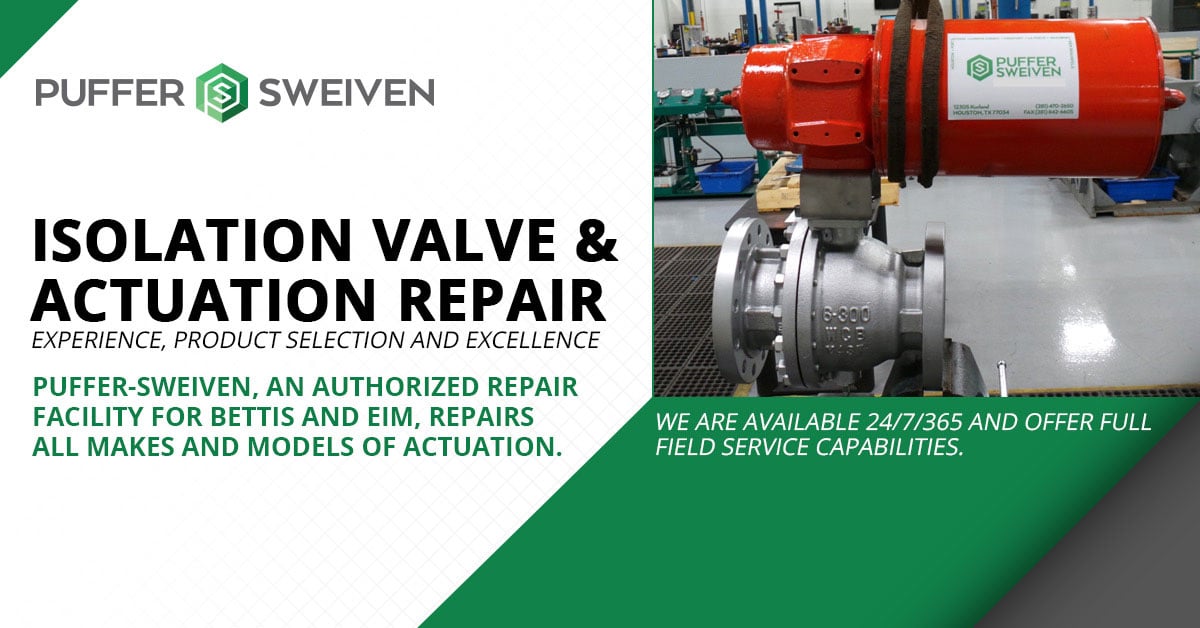 When it comes to top quality Isolation Valves & Valve Actuation products, we at Puffer-Sweiven offer our customers nothing less than the best! Our Isolation Valves & Valve Actuation product name is synonymous with "Experience, Product Selection & Excellence". In other words, you've come to the best in service repair capabilities. Puffer-Sweiven repairs all makes and models of actuation, and is an authorized repair facility for Bettis and EIM actuators. We're available 24/7, every single day throughout the year, to offer full field service capabilities.
Puffer-Sweiven takes advantage of our new 140,000 square foot facility where all makes and models of actuation are repaired, including:
Manual Isolation Valves
Automatic Valves and Actuators
Safety Instrumented Systems (SIS)
High-Integrity Pressure Protection Systems (HIPPS)
We help our clients find the best manual valves for your application. We understand deeply that manually operated valves must provide responsive service that can be relied on. Puffer-Sweiven knows the complexities of integrating an electric device, hydraulic or pneumatic to a valve.
Isolation Valves & Valve Actuation
Our valves are turn-key systems which guarantee that critical process systems will be safe. Puffer-Sweiven has lengthy experience even with the most challenging applications of SIS.
Any and every isolation valve requirement can be easily supplied no matter if it is related to safety, automated, or manual valves. Puffer-Sweiven has an extensive history of successfully completing large, complicated projects. No project is considered too big for us. Our employees have a rich background of experience that gives them thorough knowledge of best practices.
Puffer-Sweiven's veteran knowledge and experience with actuation devices, valves, and related products allow us to take on a project of any scale. We offer our clients top-of-the-line product selection, unparalleled experience, and assurance that all isolation valve requirements have been met.
World-Class Experience, Product Selection, and Service
Puffer-Sweiven is the single best source for valves, actuation devices, and repair services. Our deep commitment to continuous process improvement allows us to offer:
An unparalleled mega project execution resume
Unmatched experience, skills, and knowledge
Worldwide reach and support
With more than seven decades of experience, Puffer-Sweiven intimately knows the most advanced technologies for valve actuation systems to isolation valves to manual valves. If a conventional system will not work for your application, we can integrate turn-key High-Integrity Pressure Protection Systems (HIPPS).
Contact us online today for general inquiries, or speak with one of our experts at 281-240-2000.