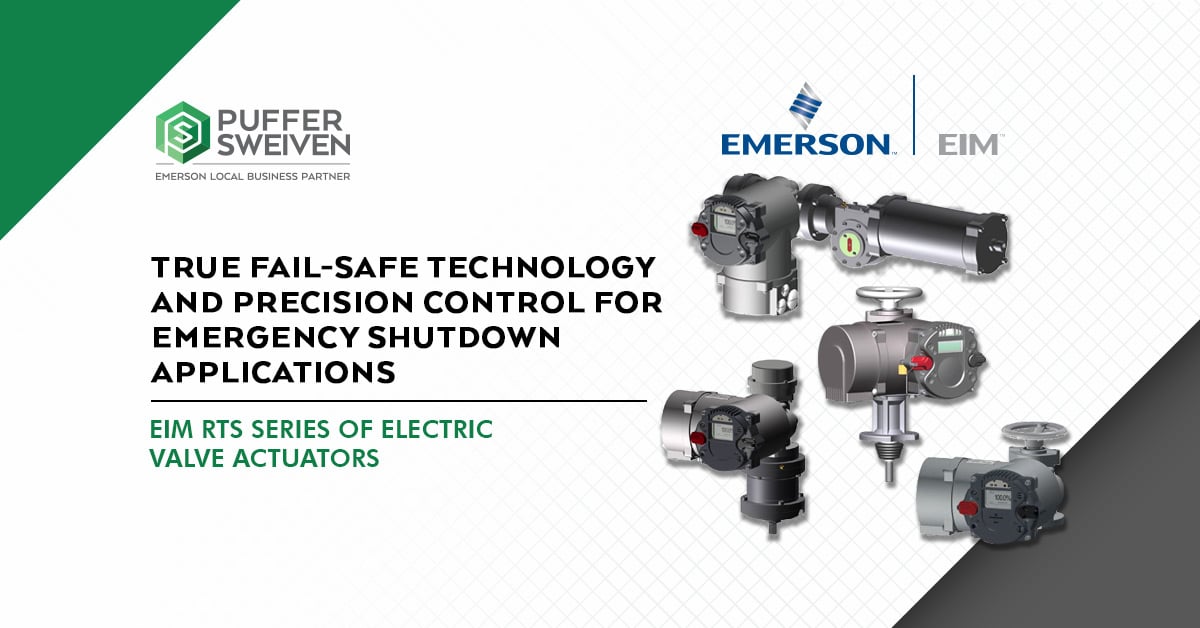 No hydraulics or batteries needed.
A Smart electric actuator that can safely operate valves in the event of an emergency in remote and inaccessible areas.
As the exclusive Local Business Partner of Emerson Automation Solutions, we at Puffer-Sweiven are proud to offer EIM, the highest quality electric actuator manufacturer in the world. When you buy EIM products, it comes with a proven track record for reliable performance in critical shutdown applications.
EIM RTS Series of electric actuators offers four distinct, technologically advanced electric actuators that address a broad spectrum of market needs.
Compact & Smart
The RTS CM Compact Multi-Turn electric actuators deliver an efficient and flexible actuator in two different sizes. With an integrated smart control unit, the RTS CM actuator meets the need for your gate valve applications and serves as the common design platform for the RTS Series of actuators.
Mechanical Spring Return Fail-Safe for Reliable Emergency Shutdown
The RTS FQ Fail-Safe Quarter-Turn and RTS FL Fail-Safe Linear electric actuators use energy stored in mechanical springs to position the valve in a safe closed or open position. These products provide a reliable mechanism for emergency shutdown applications without the need for electric power. Additionally, they offer a cost-effective, low-maintenance alternative to pneumatic and hydraulic based systems.
Precise & Repeatable Process Control
With the RTS CL Compact Linear electric actuators, we at Puffer-Sweiven will provide an actuator that is suitable for your most demanding control applications. Available in multiple sizes, the RTS CL actuator combines a brushless DC motor using variable frequency controls and advanced software into a compact form factor to provide advanced linear modulating control capability.
Advanced Insight & Ease of Use
The integrated control unit common on all RTS actuators is characterized by ease of use. RTS actuators can be configured and controlled either using local controls or wirelessly using Bluetooth. In order to optimize operations and prevent downtime, actuator operational data including status information, alerts, event log, and data history is logged and made available to the end user.
To learn more about the EIM RTS series contact Puffer-Sweiven at 281-240-2000.
About Emerson
Emerson (NYSE: EMR), based in St. Louis, Missouri (USA), is a global leader in bringing technology and engineering together to create innovative solutions for customers through its network power, process management, industrial automation, climate technologies, and appliance and tools businesses. For more information, visit www.Emerson.com.