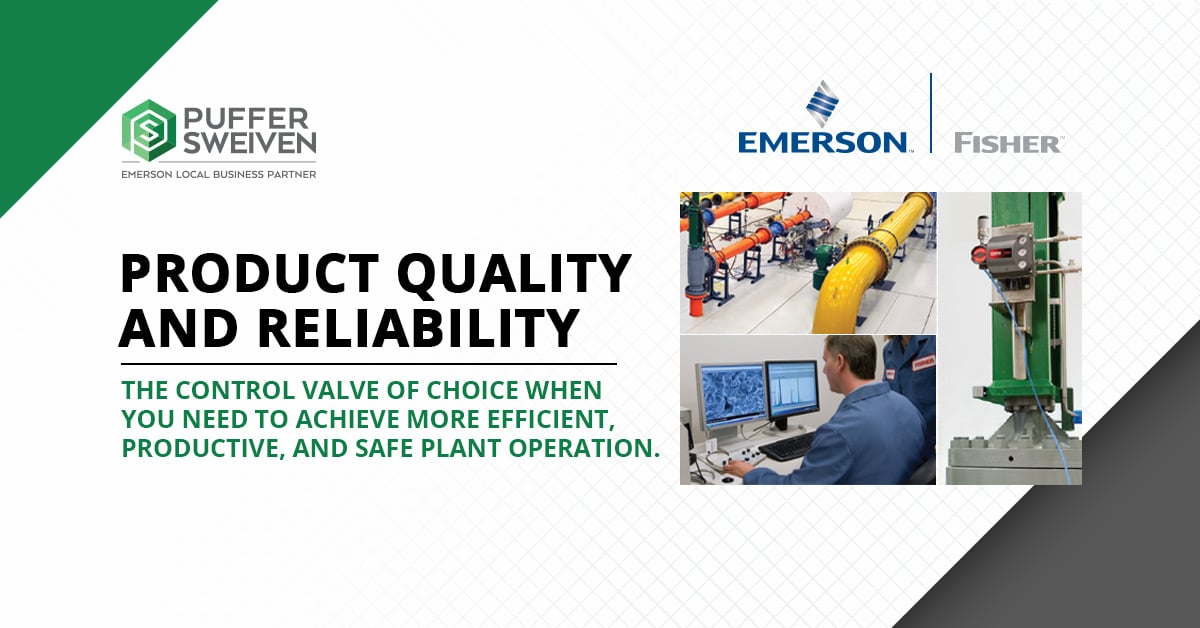 We at Puffer-Sweiven proudly represent Emerson, the industry-leading manufacturer of Fisher control valves, controllers, instruments and regulators. As the exclusive Local Business Partner for Emerson Automation Solutions in the Central and Gulf Coast region of Texas, we are committed to increased product quality and reliability for a safer plant operation in an ever-changing process control industry.
When you buy Fisher control valves, you will receive over 135 years of trusted innovations forging the future of flow control solutions. Plus you get the benefit from millions of research dollars invested in solving the issues important to you. Using Fisher technology is the best way to achieve efficient, productive, and safe plant operations.
Protecting Compressors
Often times, the cost associated with a plant shutdown due to a compressor trip can be measured in seven figures per day. With system availability and reliability so crucial to the overall success of an operation, properly designed anti-surge control systems must be configured in a manner where all components are working together to eliminate the risk of mechanical failure or shutdown.
Technologies incorporated in Fisher Optimized Digital Valve (ODV) assemblies are unmatched by any other supplier. Anti-surge valves must be responsive, accurate and stable in order to protect critical and costly compressors from damage during surge events. They also must be accurate to allow operation at peak efficiency.
Setup and tuning can be performed remotely in minutes with Fisher technology. Fieldvue digital valve controllers use special, anti-surge specific control and tuning algorithms for robust, stable, high performance. Factory acceptance testing to Fisher specification FGS 4L11 typically eliminates the need for any additional tuning after installation.
Reducing Process Variability
Reducing process variability is key to improving product quality. All process loops have some form of variability and a vast majority of the loops have excess variability that can be eliminated by utilizing FIELDVUE® instruments. To minimize variability, Emerson engineers perform comprehensive tests on complete control valve assemblies during new product development. Control valve assemblies are subjected to on-line, dynamic performance testing to evaluate their ability to reduce process variability. Diagnostic tests are also done to analyze valve performance. One test in particular, the step response test, will analyze how your valve responds to step input changes of varying sizes.
While control valves are on-line and in-service, FIELDVUE digital valve controllers can detect, capture, and trend more than 200 fault conditions and provide recommended actions through alerts by AMS ValveLink® Software. Travel deviation, drive signal, and cycle accumulation are a few examples of the various alerts available.
Fisher products have historically set the standard for dynamic performance. Emerson is dedicated to continuous improvement of existing products. New products must exceed the performance of the products they replace. Best-in-class flow lab facilities and control experts enable us to meet these challenges.
At Puffer-Sweiven we are committed to the standards and processes that ensure innovative and reliable product designs. Contact us for all your industrial valve and control applications.
About Emerson
Emerson (NYSE: EMR), based in St. Louis, Missouri (USA), is a global leader in bringing technology and engineering together to create innovative solutions for customers through its network power, process management, industrial automation, climate technologies, and appliance and tools businesses. For more information, visit www.Emerson.com.